" … for I am never in the present. We always meet each other, ourselves while absent. If you speak of yourself, you speak of someone who is absent. Never will you be able to give him all the reality you want to give him. And the same is true of words: they always struggle with the absence of the word, with that which they cannot say. It is absence that renders words audible and visible, the large white interstices of silence between words without which words would be invisible."

Edmond Jabès, in: The Writing of the Desert
(translated by C. A. Wollin)
---
Biography
Sarah Nemtsov (née Reuter) was born in Oldenburg, Germany in 1980. Her mother was the painter Elisabeth Naomi Reuter. In 1987, Nemtsov got her first music lessons, around the same time she began writing her first compositions. Between 1989 and 1993 she participated in numerous concerts and recordings of the REIL TRIO as a recorder player. At the age of 14 she started playing the oboe.
Since 1998 she studied composition at the Hanover Hochschule for Music and Theatre with Nigel Osborne as a "young student". In 2000 she began with her regular studies at the same institution with Johannes Schoellhorn (composition) and Klaus Becker (oboe). Since 2003 she studied oboe with Burkhard Glaetzner (Berlin). After her graduation in both disciplines in 2005, she began with her post-graduate studies in composition with Walter Zimmermann at the Berlin University of the Arts (Meisterschueler exam with distinction).
Her catalogue with over 150 compositions shows a wide variety of genres – from instrumental solo to orchestra, opera, electronic music or film. In her unique musical language she combines different influences, from renaissance and baroque music to jazz and rock. The intensity of her music is also created through the reference to other arts and extra-musical content. This includes political and social issues.
In 2014 she was teaching (composition/music theatre) at the Musikhochschule Cologne. In 2018 (spring semester) she was teaching composition as a DAAD guest lecturer at the University of Haifa, Israel. Since 2022, she is professor for composition at the University Mozarteum Salzburg, Austria.
Awards
Sarah Nemtsov is the recipient of several prizes and scholarships, such as the German Music Authors Prize (Deutsche Musikautorenpreis GEMA) in 2012, the Busoni Composition Prize (Academy of the Arts Berlin) in 2013, 2016 she won the international RicordiLAB composition competition, in 2018 she was awarded the Oldenburg Composition Prize for Contemporary Music. She got fellowships from various foundations, such as the German National Merit Foundation, Berlin Senate, or Foundation Zurueckgeben, as well as a residence at Villa Serpentara (Italy). 2014/2015 Sarah Nemtsov was composer in residence for Philharmonic Orchestra Erfurt (GMD Joana Mallwitz) and her orchestra pieces were featured in three symphonic concerts. In 2020, she is nominated for the Opus Klassik Prize in the category "Composer of the Year". In 2021, she was elected as a member to the Saxon Academy of Arts as well as to the Berlin Academy of Arts (Akademie der Künste Berlin). In 2022, two portrait festivals were dedicated to her work: Les Amplitudes in Switzerland and w e i t – Weingarten in South Germany. 2022-2023 she is composer in focus at the Staatstheater Saarland.
Operas
Her chamber opera "Herzland" (2005) premiered in Hanover in 2006; it was staged at the Bavarian state opera in 2011 (in co-production with the Jewish Chamber Orchestra) and will be presented again at the Munich Kammerspiele in 2023. Her opera "L'ABSENCE" (2006-2008) after "Le Livre des Questions" by Edmond Jabès had its premiere May 2012 at the Munich Biennale and was nominated as "best premier in 2012" (Opernwelt).
Her highly acclaimed opera – "SACRIFICE" (2016) – was premiered in March 2017 at Opera Halle. The music theatre piece both comments on the state of contemporary opera, and draws a parallel with current affairs, and was described by Die ZEIT as a work in which "sound becomes space becomes time becomes reality." In 2022, at festival Ruhrtriennale, her cycle "HAUS" was staged at the turbine hall Bochum – "an unleashed ectasy of sound that opens up spaces of association" (nmz).
Her newest opera – "OPHELIA" (2020-2021) with a libretto by Mirko Bonné – will be premiered in 2023 at Saarländisches Staatstheater. Currently Sarah Nemtsov works on her tetralogy "TZIMTZUM" for four soloists and orchestra, as well as on another opera: "WE" (after E. Zamyatin), WP in 2026 at the Dortmund Opera House.
Performances
Nemtsov's music is played by renowned orchestras and ensembles – such as WDR orchestra, HR Symphony Orchestra, Deutsches Sinfonieorchester Berlin, Konzerthausorchester, Tonhalle Zurich orchestra, Basel Sinfonietta, MKO Munich Chamber Orchestra, or the Finnish Baroque Orchestra, with the ensemble Musikfabrik, Klangforum Wien, Arditti quartet, Neue Vocalsolisten Stuttgart, ensemble modern, ensemble recherche, ensemble mosaik, Ensemble InterContemporain, Solistenstenensemble Kaleidoskop, Ensemblekollektiv Berlin, Meitar, Nikel ensemble, Decoder ensemble, Lux:NM, Accroche Note, Trio accanto, Ensemble Garage, Ascolta, PHACE, Diotima Quartet, Nomos Quartet, Phace, Trio Boulanger, Black page orchestra, Oh-Ton-Ensemble and many more. She has worked closely for many years with the Ensemble Adapter and developed a special bond. Her music is interpreted by conductors such as Joana Mallwitz, Baldur Brönnimann, Bas Wiegers, Michael Wendeberg, Jonathan Stockhammer, Franck Ollu, Peter Rundel, Johannes Kalitzke, Evan Christ, Manuel Nawri or Ilan Volkov.
Her compositions are featured in various international festivals – for example at the Donaueschingen Music Days, Darmstadt Summer Course, Munich Biennale, Ruhrtriennale, Wien modern, Musica, ECLAT, Bregenzer Festspiele, Holland Festival, Ultraschall, MaerzMusik, Klang, Musica Nova, Acht Brücken, Huddersfield, FRUM, Israel Festival, Klangspuren Schwaz, ISCM World New Music Festival, or Essen NOW. Her works are being published at Ricordi Berlin. Several of her compositions are released on CD, amongst others two portrait CDs ("A LONG WAY AWAY" 2012, Edition zeitgenössische Musik/Wergo and "amplified imagination" 2018, Wergo). More releases are in preparation.
Work
For Sarah Nemtsov, literature plays an important role as a source of inspiration, as well as other arts; it serves her in terms of content as well as formally, in her compositional technique as a conceptual stimulation for her own constant innovation. Often in the combination and contrast of audio and visual moments, at the borders of music theater, she fathoms new forms of musical presence. Her compositions are sometimes exploring simultaneous and chaotic forms, in search of an "urban sound in music", a sensual complexity, and since 2013 are often involving electronics. Several works are engaging with and addressing political topics and social aspects (some more subtle, some more concrete – as for instance her opera "Sacrifice", or video works/collaborations such as "RED" or "Mountain & Maiden").
In 2015, Sarah Nemtsov founded a gallery and concert venue in Berlin together with her husband Jascha Nemtsov – "Raum für Kunst und Diskurs", it became also the archive of her mother's art. Also she initiated (as artistic director and composer) the project "Mekomot" 2015-2016 – a concert tour with contemporary music and old jewish liturgical chants through abandoned synagogues in Germany and Poland. She is regularly a jury member at composition competitions and is teaching at master classes for composition. She is also active as a curator and consultant.
DOWNLOAD: Biography Sarah Nemtsov (English)
DOWNLOAD:  Biographie Sarah Nemtsov (deutsch)
Oboe
As an oboist Sarah Nemtsov won first prices at several national oboe competitions like "Jugend musiziert – Bundeswettbewerb" in 1999 (wood wind quintet) and in 2000 (oboe solo). She got a prize of the Hanover artist society and in 2001 the "Price of Niedersachsen". In 2007, she got a special prize for the interpretation of her own composition "Interludien" (Hanns Eisler Prize). Sarah Nemtsov has performed as a soloist and in chamber ensembles, amongst others together with her husband, the pianist Jascha Nemtsov. Since 2007, she is concentrating on composition only.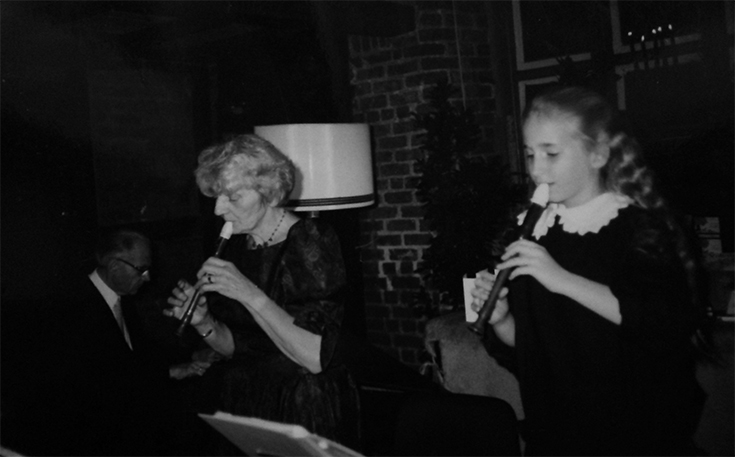 Sarah at a concert 1989: Reil Trio, Ilse Reil and Sarah (Reuter/Nemtsov), recorder, Hermann Dick, harpsichord
Paintings on this website
With kindly permission by artist Elisabeth Naomi Reuter (1946-2017) several of her paintings were used for this website.